Episode 22 – Cathy Hartmann – Spinning Plates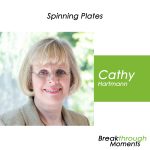 Cathy joined Springboard to Learning as the Executive Director in July 2013, and is responsible for the implementation of the overall mission, programs and funding for Springboard, representing the organization in the community and overseeing staff and the daily operations. She also works closely with the Board to forward the strategic plan of Springboard to Learning.
Cathy holds a master's degree in non-profit management from Lindenwood University and a bachelor's degree in social work from the University of Missouri – St. Louis. She has more than 40 years of experience in the non-profit sector. Prior to joining Springboard to Learning, Cathy served as Interim Executive Director and Director-Mission Delivery for seven years with the American Diabetes Association. Prior to the ADA, Cathy held programmatic management positions with various faith-based ministries.
LINKS:
Springboard to Learning Website