Episode 31 – Debbie Peterson – Your Opinion Doesn't Need to be my Truth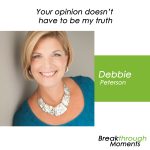 Debbie Peterson runs a speaking and coaching business to help her audiences and clients develop a focused mindset for fulfilling professional results by harnessing the power of their thoughts.
Her audiences and clients have shared that they experience more clarity of career direction, producing better self-aligning decisions; an increased focus for clearer, consistent action; and more momentum, keeping them motivated and achieving the next level of success on their terms.
Debbie has 25+ years in Corporate with experience in Administration, Project Management, and Investor Relations. She is a certified Trainer of NLP at the Master Practitioner level and has spent over 10 years studying, designing, and delivering keynotes, workshops, and corporate trainings using Neuro-linguistic Programming (NLP) as a foundation. Debbie has presented to thousands of employees, leaders, and clients at various sized organizations.
Debbie is the creator of Career Success Circle Mastermind, and The Way Forward in Career and Life Mastery Program, for women leaders and emerging leaders who want to create next level success without the sacrifice. She is a professional member of the National Speakers Association, Women's Speakers Association, and an author with her book, Clarity: How Smart Professionals Create Career Success on Their Terms, released in 2019.
Debbie has long been an advocate for professional women, and in 2015 she stepped on to the board of ATHENA International, a global organization committed to supporting, developing and honoring women leaders. She is also a member of the International Women's Forum, Women's Business Collaborative, and Network of Executive Women.
LINKS:
Debbie's book — Clarity: How Smart Professionals Create Career Success