Episode 4 – Mj Callaway – Assess your situation and goals, then problem solve and grow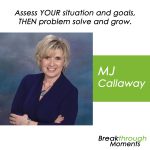 Mj Callaway is a pro at motivating people and organizations through change and reinvention. She is an award-winning author, motivational speaker and corporate trainer known for shifting attitudes and converting strategies into results and revenue. A two-time survivor, former sales trainer, and the only award-winning woman sales executive to sell three times her sales quota and rank #1 nationally, Mj knows the disruptions professionals, managers and executives handle daily.
Mj has won four Gold Awards from PMA, and has sold a children's game to Disney. As a Warner Books author, Mj's books hit best-selling status. She's the author of eight books, including her latest release Bounce-Up: Outpower Adversity, Boost Resilience, Rebound Higher.
LINKS:
Mj's LinkedIn