Episode 5 – Stephen Morris – Seek first to understand, then to be understood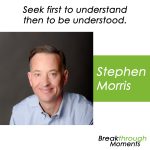 I had a really interesting and cool start to my career designing multi-million dollar racing yachts, and building and coaching teams to help our clients win the world's most demanding yacht races.
In those early years I learned a lot about what it took to be a great leader, the importance of applying processes and systems, and found a deep passion and curiosity around how to really get a team to work together.
During that time I also spent 16 years developing my entrepreneurial mindset, rising to be a leader of the top yacht design company in the world, growing that business from 10 to 22 staff.  But then I found myself at the top and no way to learn more.
I made the difficult decision to leave that company and for the second stage in my career went into government contracting for 10 years, managing across larger teams with multi-million dollar budgets and helping the US navy launch ships into the fleet.
For the third stage of my career I decided I was ready to start my own entrepreneurial journey. I founded my business 5 years ago with the mission to help people, teams and businesses get unstuck and sail forward. It was during this time that I was introduced to Traction and EOS, and I immediately fell in love. I wish I had had these tools when I was faced with obstacles and trying to grow the yacht design business.
So today I am a professional EOS Implementer and I bring my expertise and my passion to help smart business owners get unstuck, fuel growth and build a profitable and enjoyable place to work with their crew.
LINKS:
Stephen Morris LinkedIn