Episode 13 – Andrea O'Brien – People over Performance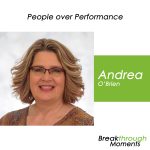 Growing up in a small farming community in rural Iowa, Andrea spent her life and career since graduation working with Higher Education in the Midwest. Her professional career in Higher Education started in Director roles in Residence Life and Graduate Admissions for the Health Professions over the last 21 years. Her training and focus in Management with an emphasis in Organizational Development has enabled Andrea to apply the principles of understanding personality styles and Servant Leadership within my workplace and community, and hopefully instilling these values within her staff.
Andrea has always been entranced with the college experience, and immensely enjoys working with college students and young professionals, witnessing their personal and professional growth through work experience. Her strong interest in the "people-side" of the work environment, helping staff develop transferable skill sets that make them more competitive, yet understanding the value of their contributions within their organization, has made a difference among the young professionals she has worked with over the years.
Outside of work, Andrea has served on regional and national boards for several professional, service, and charitable organizations, has been a member of two local Rotary Clubs with district level appointments, and has received both the Bronze and Silver National Volunteer Service Recognition Awards from the White House. In Andrea's free time, she and her husband have a small side business in woodworking and quilting. She is an avid quilter, and loves creating beautiful quilts that will be cherished by those who receive them. They have two adult sons, a Dalmatian, and an Olde English Bulldog.
LINKS:
A.T. Still University Admissions